FAQ
Registration and login in
Create account yourself – click on SIGN UP in rihgt upper side of every page and insert your contact information including an e-mail address. Email address must be a valid, we will use this address for confirmation your registration and any purchasing activity on the website.
Your account will be created automatically -  the order automatically creates your account. User name and password are send to your – email address with separately e-mail "User registration"
European standards EN - Standards that have been adopted and approved for use in the European Union
What is CSN standard - CSN - is a mark for Czech national standards. If standard is published as CSN EN,  it has status of European Standard with original english text.
Difference between DIN and CSN – only publisher
DIN is German national standardization institute
CSN is Czech national standardization institute
EN standards can not be sold separately as EN, must be adopted and published at national level each national standardization institutes, for example as BS EN, DIN EN, NF EN, CSN EN etc
Content of EN standard is always the same.
Ordering
    1. Choose format of standards (PDF or Hardcopy), add the standard into shopping cart.
    2. Open the cart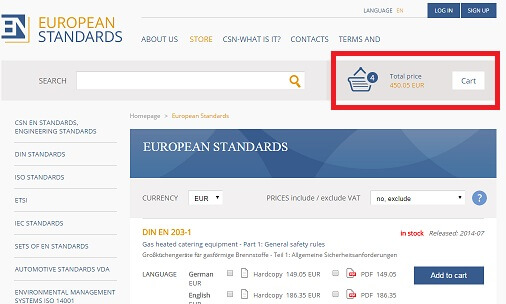 3. Check the ordered items and and proceed to order information
     4. Insert your business data (your account will be created automatically) or SIGN IN. Follow the instructions in the order form.
Payment
CREDIT CARD PAY – payment trought 3D secure payment gate -  accept Visa and Master Card

CREDIT CARD PayPal – payment trought PayPal payment gate with PayPal account or without PayPal account only with credit card – accept Visa, Master Card, American Express

      1. I have PAYPAL Account:
After confirm your order in last step, you will be redirected to secure PAYPAL
website. Login to your PAYPAL account and confirm the ammount.
      2.I have not PAYPAL Account:
After confirm your order in last step, you will be redirected to secure PAYPAL
website and choose to pay as PAYPAL guest. In next step enter information
from your credit card
BANK ACCOUNT ADVANCE PAYMENT - after ordering you will receive by e-mail  a proforma invoice with details for bank transfer. All bank transfer payments incur a fee of 16 EUR.
Documents formats:
PDF* - Portable Document Format -  an electronic format. The file will be upload in your account in bookmark DOWNLOAD. Before opening please save the file to your PC. All our files are in printable format.

* Adobe Acrobat Reader
Adobe Acrobat Reader software is required to view PDF files on your computer. This is a free download from the Adobe website.
HARDCOPY – printed version of standards available as book
Price with VAT / without VAT
Price with VAT is charged only for customers from European Union – non VAT payers. For all other customers will be charged price without VAT